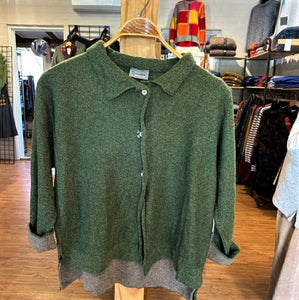 Letty Jacket- Orkney Island Hand Knit - Fern/Loam
Regular price $345.00 Sale
Made from Raw Silk and Lambswool these are knitted in the Orkney Islands off the top of mainland Scotland. It is a tiny cottage industry, and they are produced by a team of three knitters in their own homes using domestic hand working knitting machines. Each garment travels between each knitter - by boat - to be finished.
I love the vision this conjures, and I love the finished product - the yarn (light but warm), the depth of colour and the relaxed design. They are quirky and fun. Each style is available in one size fits all. Incredible colour combinations and wonderful attention to detail.
This style is a medium length cardigan/jacket with a drop shoulder, double hand dyed shell buttons (to match the yarn) with contrasting cuffs and inner back hem band.
Hand Wash
52% Silk 48% Lambswool   
As these are handmade they all measure differently. 
Length from centre Back to Hem: 64cm
Armpit to Armpit: 64cm
Difference in Length Front Panel to Back Panel: 6cm