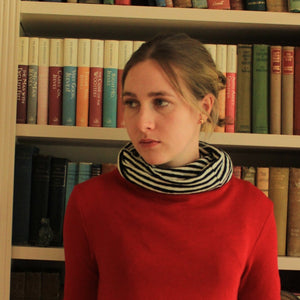 Neck Warmer - By Basics - Black Stripe
Regular price $69.00 Sale
So simple, yet so useful and so fun! We love these neck warmers from By Basics. Like a snood they pop over the neck but with a clever addition of "shirt tails" at the front and back they can be tucked in so there is no gap. These go beautifully with all our By Basic tops and dresses and match with the wrist warmers and hats. The knit fabric has a lot of give and movement and it is very comfortable to wear. It has been knitted in pre-shrunk, mulesing free, merino wool.
The wool used has not been exposed to any harmful chemicals or allergy-inducing dyes. Each piece has been hand cut in Denmark and can go in the washing machine and the dryer (on low!). These pieces are truly beautiful and are keepers. 
Berrima's Overflow, welcome By Basics to our collection. By Basics is a brand from Denmark who believe that all we need is, "Naturals Materials, Ethical Slow Fashion, High Qualities, A World of Colour" - We couldn't have said it better ourselves...
Wool Machine Wash
Low Tumble Dry
100% Merino Wool