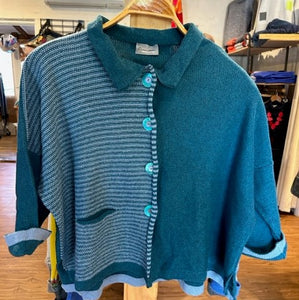 Aretha Stripe Jacket- Orkney Hand Knit - Teal/Dresden
Regular price $355.00 Sale
How delighted we are to offer you these quirky, fun, home made knits from the wild and windy Orkney Islands off the top of mainland Scotland. This cottage industry is based around a small team of knitters who make the garments in their own homes using a naturally dyed, raw silk and lambs wool blended yarn. Each piece has to travel (by boat) to each of the three knitters to be finished and then once finished they make their way to us. We are very privileged to offer these to you, we are their only International stockist.
This 3/4 sleeve jacket is ideal for an extra layer, and is perfect all year round. One size fits all - it is a medium length jacket, dropped shoulder boxy style, with a striped panel on the front, contrasting cuffs and inner back hem. It has a pocket at the front and double shell buttons that have been hand dyed to match the yarn running down the front.  These are very special and are long lasting and they do not pill.
These pieces exhibit everything that Berrima's Overflow loves - natural, creative, sustainable, colourful, happy, long lasting, real clothing! The slowest fashion we can find!
Hand Wash
52% Raw Silk, 47% Lambswool
As these are handmade they all measure differently. 
Length from centre Back to Hem: 61cm
Armpit to Armpit: 71cm
Difference in Length Front Panel to Back Panel: 5cm