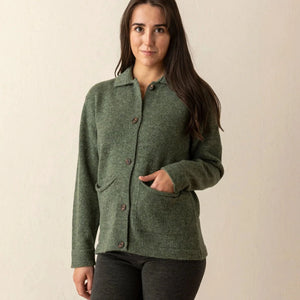 Herd Jacket - ERIBE - Pennine
Regular price $379.00 Sale
New from Eribe this season is the Women's Herd Jacket. It is a brilliant, sturdy mid length knit Jacket with a collar and 2 large fashioned pockets. It is rugged of medium weight and is made from 100% British wool, uses horn buttons and it is warm and made to last.
The Herd Jacket is part of Eribe's Ecology range which draws inspiration from workwear, providing honest, dependable garments that won't let you down when you need them the most. The Herd Jacket features doubled hems for added quality and durability. These really are an everyday jacket for the cold that will last many winters.
Eribe is a Scottish Knitwear design house that is forever forward thinking. Their range of knitwear, including their popular Fairisle designs, is contemporary and exciting, all exceptionally crafted using natural sustainable yarns. Slow Fashion. We provide the largest range in Australia.
Cold Hand Wash
100% British Wool