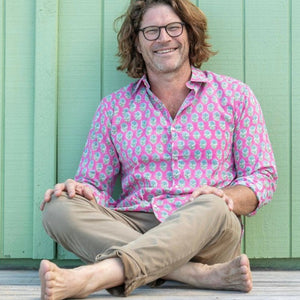 Mandalay Designs - Men's Shirt - Azalea
Regular price $114.00 Sale
These fun men's shirts are true to Mandalay style- colourful, vibrant and easy to wear. Their classic fit is relaxed and perfect for summer days and nights. Being made from 100% cotton, they are cool and soft. 
Mandalay Designs comes to us from the Morning Peninsular in Victoria. A beautiful, creative and wearable collection made from quality organic cotton. All ethically handcrafted in India and using only natural fibres and sustainable fabrics, their pieces are timeless, relaxed and elegant. 
We are delighted to introduce you to Mandalay's collection of dresses and shirts for Spring and Summer, we think they will be a perfect for summer fun, summer holidays and summer living!
Cold Machine Wash
100% Organic Cotton